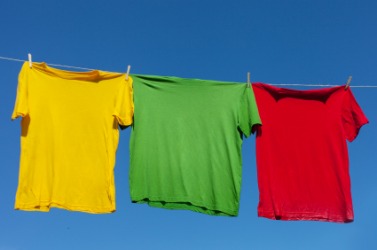 Shirts hanging on a line to air-dry.
verb
The definition of air dry means to leave something in an open area so that the atmosphere surrounding it will cause the liquid in it to evaporate.

To hang damp laundry on a clothesline is an example of air dry.
---
air-dry
transitive verb
-·dried·

,

-·dry·ing
to dry by exposing to the air
so dry as to give off no further moisture upon exposure to the air
---
air-dry
transitive verb
air-dried, air-dry·ing, air-dries
To dry by exposure to the air.
adjective
Sufficiently dry so that further exposure to air does not yield more moisture to be evaporated.
---
air-dry

Verb
(third-person singular simple present airdries, present participle airdrying, simple past and past participle airdried)
Alternative form of air-dry.
Adjective
(not comparable)
Free of moisture to the degree possible by exposure to air; "naturally" dried.
---