aerosol
[er′ə säl′, -sôl′]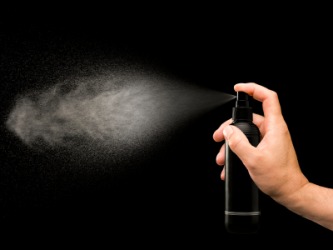 Liquid particles such as hairspray or paint being dispensed into the air.
---
aerosol
noun
a suspension of colloidal particles in a gas
Origin of aerosol
aero- + sol
adjective
designating or of a small container in which gas under pressure is used to aerate and dispense a liquid spray through a valve
dispensed by such a container: an aerosol insecticide, paint, medication
---
aerosol
noun
A gaseous suspension of fine solid or liquid particles.

a. A substance, such as paint, detergent, or insecticide, packaged under pressure with a gaseous propellant for release as a spray of fine particles.

b. An aerosol can.
Origin of aerosol
aero–
+
sol(ution)
.
---
aerosol
Noun
(plural aerosols)
A gaseous or airborne cloud of particulate matter, either as a solid, liquid, or gas, which forces another substance out of a spray can.

An aerosol was used to force the flea powder out of the can.
---