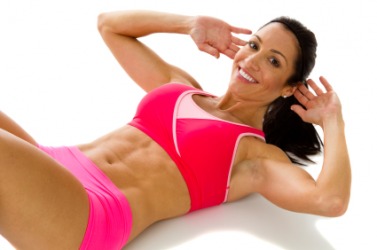 Sit-ups exercise your abdomen.
noun
The definition of abdomen is the middle area on a body between the chest and the hips, also called the belly.

An example of abdomen is the area that you exercise when doing a sit-up.
---
abdomen
in vertebrates

the part of the body cavity from the thorax to the pelvic girdle, containing the digestive organs, etc.; belly: in mammals, the diaphragm separates this from the thorax
the region of the trunk between the chest and pelvis

in arthropods, the posterior body segment containing the reproductive organs, etc.
Origin of abdomen
Classical Latin
---
abdomen
noun
The part of the body that lies between the thorax and the pelvis and encloses the stomach, intestines, liver, spleen, and pancreas in humans and other mammals. Also called belly .
The corresponding region in vertebrates other than mammals.
The posterior segment of the body in arthropods.
Origin of abdomen
Latin
abdōmen
belly
; see
dhē-
in Indo-European roots.
---
abdomen

Noun
(plural abdomens or abdomina)
(anatomy) The belly, or that part of the body between the thorax and the pelvis, not including the back; or in some lower vertebrates, the portion between the cardiac and caudal regions. [First attested in the early 17th century.]
(anatomy) The cavity of the belly, which is lined by the peritoneum, and contains the viscera; often restricted in humans to the part between the diaphragm and the commencement of the pelvis, the remainder being called the pelvic cavity. [First attested in the early 17th century.]

He was all bent over complaining of pains in the abdomen.

(zoology, entomology) The posterior section of the body, behind the thorax, in insects, crustaceans, and other Arthropoda. [First attested in the late 18th century.]
---