lung

lung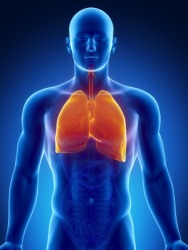 An image of human lungs.
noun
The definition of a lung is a sponge like organ used for breathing that is found in the chest cavity in humans and animals.

An example of a lung is the organ that puts oxygen in the blood and removes carbon dioxide.
---
lung
either of the two spongelike respiratory organs in the thorax of air-breathing vertebrates, that oxygenate the blood and remove carbon dioxide from it
any analogous organ in invertebrates
Origin of lung
Middle English
lunge
from Old English
lungen
, akin to German
lunge
from Indo-European base an unverified form
legwh-
, light in weight and movement: the lungs were so named because of their lightness: see lights
at the top of one's lungs

---
lung
noun
Either of two spongy, saclike respiratory organs in air-breathing vertebrates, occupying the chest cavity together with the heart and functioning to provide oxygen to the blood while removing carbon dioxide.
A similar organ in some invertebrates, including spiders and terrestrial snails.
Origin of lung
Middle English
lunge
from
Old English
lungen
lungs
; see
legwh-
in Indo-European roots.
---
lung

Origin
From Middle English, from Old English lungen, from Proto-Germanic *lungw- ("the light organ"), from Proto-Indo-European *lengÊ·Ê°- ("not heavy, agile, nimble"); cf. *h₁lengÊ·Ê°-, whence ultimately also light. Cognate with West Frisian long, Dutch long, German Lunge, Danish lunge, Swedish lunga, Icelandic lunga, and also Russian лёгкое (lÑ'gkoe) (lung), Ancient Greek ἐλαφρός (ἐlafrós) and perhaps Albanian lungë ("blister, bulge"). Compare Latin levis and Old English lÄ"oht (Modern English light). See also lights ("lungs").
---