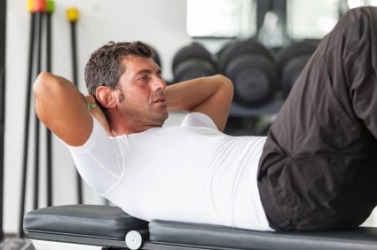 A man doing abdominal exercises.
adjective
The definition of abdominal refers to the area of the body between the chest and the pelvis where the intestines, stomach, liver, kidneys, gall bladder, appendix, spleen, and pancreas are located.

An example of abdominal is the area where your stomach is.
---
abdominal
of, in, on, or for the abdomen
Origin of abdominal
Modern Latin
abdominalis
from Classical Latin
abdomen
---
abdominal
adjective
Of or relating to the abdomen.
noun
An abdominal muscle: an exercise machine that works the abdominals.
Related Forms:
---
abdominal

Adjective
(comparative more abdominal, superlative most abdominal)
(icthyology) Having the ventral fins under the abdomen and behind the pectoral fins. [Mid 19th century.]
(icthyology) Ventral, in describing a fin. [Late 19th century.]
Noun
(plural abdominals)
(colloquial, usually plural only) An abdominal muscle. [Mid 20th century.]
Origin
First attested in 1746. From New Latin abdominalis, from Latin abdōmen . Compare French abdominal.
---