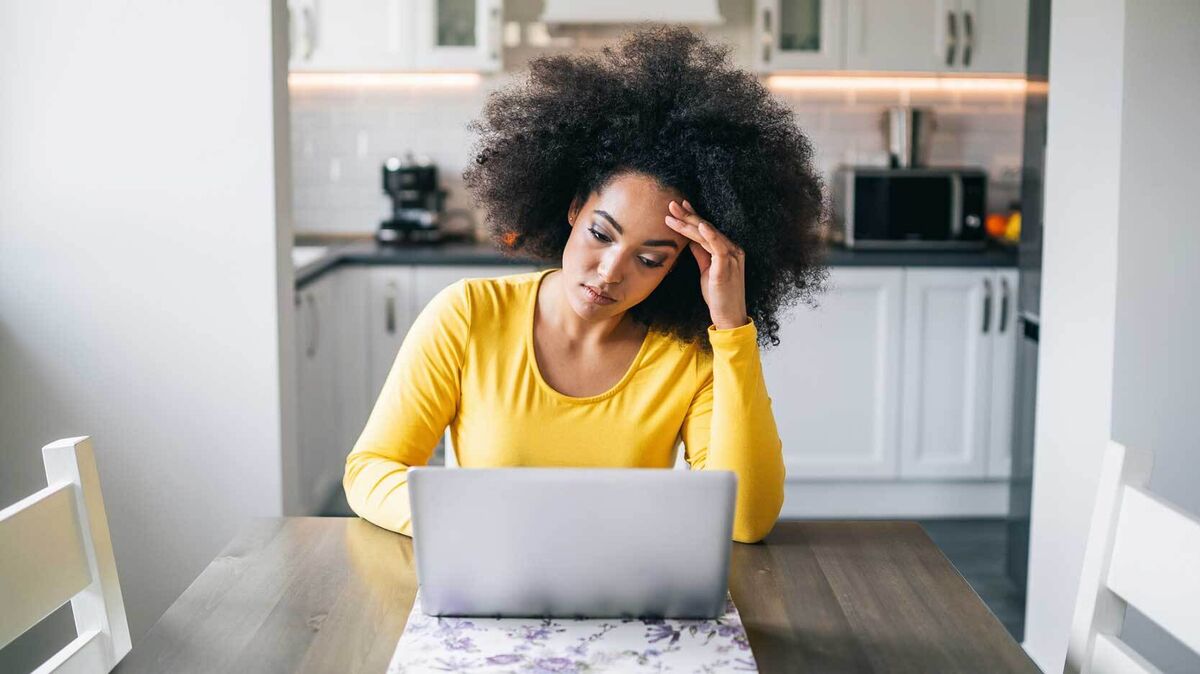 If you feel you've been unfairly treated at school or at work, it may help to know how to write an appeal letter. An appeal letter should detail the facts of the case rather than act as an emotional plea. This is probably one of the most important elements to keep in mind. You may feel very emotional at the time, but you must remain objective and professional in your writing. Discover how to write a letter of appeal that can help you accomplish your goal.
Verify the Appeal Process First
Before you start writing an appeal letter, review the organization's overall appeals process. This information is probably available in the student handbook or employee handbook, depending on the type of appeal letter you are writing. If the information isn't there, ask your guidance counselor or academic advisor where you can find it if the matter is school-related. For work-related appeals, check with human resources or the operations manager if you are unable to find the process on your own. Follow the process as it is written.
What to Include in an Appeal Letter: Step-by-Step
While you may discover that your organization requires the use of a specific form to file an appeal, you may need to write an appeals letter. Follow these steps to write an effective appeal letter.

Step 1: Use a Professional Tone
Maintain the utmost professionalism and courteousness throughout the letter. If you achieve clarity and maintain a high level of respect, you'll be well on your way to a moving appeal letter.
Step 2: Explain the Situation or Event
Clearly explain the situation that has occurred, focusing on the facts of what has taken place that you wish to appeal. It's important that you're clear and get right to the point. If you did something wrong, acknowledge it and indicate what you've learned from your mistake. Then, return to the facts surrounding how you were wronged so you can begin to wrap up with your desired outcome.

Step 3: Demonstrate Why It's Wrong or Unjust
Explain why this situation seems wrong or unjust to you. The goal of this section is to make an effective persuasive argument focused on convincing the decision-maker to grant your request. If you can cite an appropriate policy of the organization, now's the time. Include negative impacts to you, others and/or the organization that have or are likely to result as a result of the situation. If you have supporting evidence or documentation, be sure to indicate it and attach it to your letter.
Step 4: Request a Specific Action
Once you have explained the situation and made your case for why you feel it should be corrected, the next step is to focus on what you are asking the person who reads your letter to do. Clearly state the outcome you are seeking so there is no confusion as to what your actual request really is.
Step 5: Proofread the Letter Carefully
Proofread your letter carefully, editing to ensure that it's error-free and effectively communicates your request in a persuasive manner. With a clear head, a concise outline of the facts and a respectful call to action, know that you've made a solid effort to achieve your desired outcome.
Step 6: Get a Second Opinion
Before you submit your letter, ask a trusted friend or colleague to review it. This will help ensure grammatical accuracy and objectivity. That objectivity may be the thing that prevents you from sending a highly emotional letter, which will do you no good.

What Not to Include in an Appeal Letter
Do not include obvious emotional appeals. Appealing to emotions offers no guarantee of success. A clear-minded, concise outline of the facts, along with supporting evidence, however, may move the needle. Also, don't include any exaggerations or mistruths. Think like a lawyer. You need to avoid any hints of anger or judgment. This is your opportunity to be persuasive, not aggressive.
Be sure to format your appeal letter as a business letter because it is a type of formal correspondence.
Begin with the recipient's name and address.
Follow that with your own.
Then, address the person in charge of the matter.
Keep your paragraphs short and concise, focusing solely on explaining the situation, stating why it's unjust and outline the new outcome.
End the letter with an appropriate closing.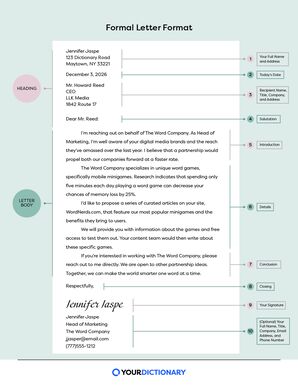 Review a few sample appeal letters and download a printable template to use as a guide when writing your own letter.
Professional Appeal Letter
If a decision has been made that impacts your professional standing, such as a denial for a raise or an unexpected transfer, you might write an appeal to your superiors.
Jane Murphy
456 Notmain Street
Bigtown, MA 67890


Mr. Smith
Sales Manager
ABC Company
123 Main Street
Smalltown, MA 12345


November 7, 2020

Dear Mr. Smith,

[Explain the situation] My name is Jane Murphy. I have been an employee with ABC Company for over 10 years. Recently, I was moved, without warning, from the Customer Service Department to the Billing Department.

[State why it is wrong/unjust] This came as a shock to me. My cubicle is lined with awards and accolades for my ability to provide outstanding customer support. Copies of those certificates have been attached. Not only is this where I excel, it's where I'm happiest. Without doubt, that is a major reason for my professional success.

[State why it is wrong/unjust] Moving me to the Billing Department is doing your company a major disservice. My strength in the Customer Service Department sets your company up to shine and receive favorable customer reviews. I've also attached a copy of the wave of positive reviews your company has received as a result of my efforts. Finally, my experience in billing is limited to customer refunds. I've never been formally trained, nor do I wish to be.

[Briefly outline what you hope the new outcome will be.] It is my sincere desire that you will allow me to return to my position as Customer Service Representative. If employee satisfaction is of concern to you, I know you will consider this. Likewise, a continued flow of favorable customer reviews is sure to come your way with such a determination.

Thank you for your attention in this matter. You may reach me at 222-555-5555 or jane@email.com. I look forward to your speedy response.

Respectfully yours,

(Signature, if hard copy)


Jane Murphy
School-Related Appeal Letter
At school, you may be appealing a decision made by a teacher or administrator. For example, if you feel you've been unjustly placed on academic probation, you might write an appeal to the Dean, asking him or her to reconsider the decision.
Suzie Studenter
123 Any Street
Smalltown, MA 67891


Dean Michael Excellence
Academic Dean
University College
530 University Alley
State College, MA 12345


January 5, 2020

Dean Excellence:

[Explain the situation] My name is Suzie Studenter. I am a freshman at University College. I am writing to request consideration of the special circumstances that led to my inability to complete final exams within the defined timeframe last semester. This situation let to failing grades in three of my four classes and resulted in my being placed on academic probation. A copy of my grade report is attached, along with my grades in each class prior to the accident.

[State why it is wrong/unjust] When I returned home for the Thanksgiving holiday, I was in a car accident that led to a three week hospital stay. I was seriously injured and unable to contact my professors before school was dismissed for the semester. I know it is my responsibility to maintain communication with my professors, but my condition during the time I was hospitalized kept me from being able to do so prior to the end of the semester. Documentation from the physician who oversaw my care is attached.

[State why it is wrong/unjust] I am a dedicated student committed to doing well in school. I had A and B averages in all of my courses prior to the accident and expect that I would have scored well enough on the exams to maintain those grades but for the accident. Starting out my college career with failing grades due to this unique situation will prevent me from being able to accomplish my academic goals.

[Briefly outline what you hope the new outcome will be.] It is my sincere desire to be allowed to take the exams I missed last semester due to the accident and to have my grades recalculated and changed based on my performance. This will allow my academic record to reflect my true abilities and prevent me from being disadvantaged academically as the result of a serious accident and related injuries.

Thank you for your attention in this matter. Please let me know if I can answer any questions or provide additional information. You may reach me at 111-555-5555 or sstudenter@email.com. I look forward to your prompt reply. If I haven't heard from you or someone from your office by January 12, I will call to follow up.

Respectfully yours,

(Signature, if hard copy)


Suzie Studenter
Printable Template for a Letter of Appeal
To access a printable template for an appeal letter, simply click the image below. The template will open as a PDF file that you can save, edit and print. Click anywhere in the document to enter text. This guide to printables includes helpful tips for working with the document.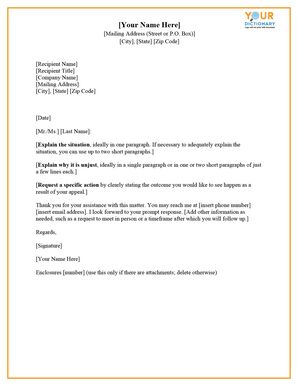 You should always follow up on an appeal letter. A good standard is one week. If you haven't heard anything back within five business days, be sure to send a second email or letter, or call to request an in-person appointment. If the matter is truly urgent, you may want to follow up sooner, possibly within three business days.
Again, remember to maintain a clear and concise tone, free of emotion. You may want to review these tips for writing clear, concise sentences before you begin writing your letter. Of course, nowhere in this process is there room for demands or harsh tones, so always take the time to ensure you've followed proper protocol. Reviewing these examples of tone may help you select appropriate words to use in a letter of appeal.