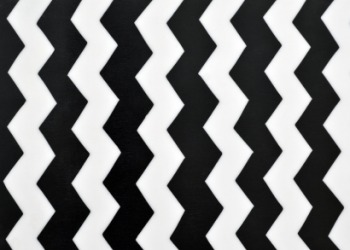 A zigzag pattern.
adjective
Zigzag describes something that goes in a line with sharp turns and angles.

An example of something zigzag is the type of cut made with pinking shears.
noun
The definition of a zigzag is a pattern on a line with a sharp turns going in opposite directions at sharp angles.

An example of a zigzag is a stitch on sewing machine.
---
zigzag
a series of short, sharp angles or turns in alternate directions, as in a line or course
something characterized by such a series, as a design, path, etc.
Origin of zigzag
Fr, probably from German
zickzack,
reduplicated, reduplication from
zacke,
a tooth, sharp prong or point
having the form of a zigzag: zigzag stitching
transitive verb
intransitive verb
-·zagged·

,

-·zag·ging
to move or form in a zigzag
---
zigzag
noun
a. A line or course that proceeds by sharp turns in alternating directions.

b. One of a series of such sharp turns.

Something, such as a road or design, that exhibits one or a series of sharp turns.
adjective
Moving in or having a zigzag.
adverb
In a zigzag manner or pattern.
verb
zig·zagged, zig·zag·ging, zig·zags
verb
intransitive
To move in or form a zigzag: a destroyer zigzagging to evade torpedoes.
verb
transitive
To cause to move in or form a zigzag.
Origin of zigzag
French
alteration of
zic-zac
from
German
Zickzack
perhaps reduplication of
Zacke
tooth, cog
from
Middle High German
zacke
point, nail
---
zigzag

Adjective
(comparative more zigzag, superlative most zigzag)
Moving in, or having a zigzag.
Verb
(third-person singular simple present zigzags, present participle zigzagging, simple past and past participle zigzagged)
To move or to twist in a zigzag manner.
Origin
Attested from 1712. Borrowing from French zigzag (attested from 1662) , possibly from a Germanic source via Walloon ziczac (although German Zickzack is attested only from 1703).
---