wavelength

wave·length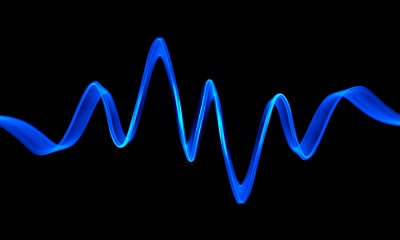 A wavelength is the distance between the crests of waves.
noun
Wavelength is the distance between the crests of waves or a person's general attitude.

An example of wavelength is the distance between the crest of two waves.
An example of wavelength is when you and another person share the same general attitude and can thus communicate well.
---
wavelength
Physics

the distance measured in the direction of a wave from any given point to the next point in the same phase, as from crest to crest

Informal

a way of thinking, understanding, etc.: chiefly in the phrase

on the same wavelength

, thinking or responding alike
---
wavelength
noun
The distance between one peak of a wave to the next corresponding peak, or between any two adjacent corresponding points, defined as the speed of a wave divided by its frequency.
wavelength
---
wavelength

Noun
(plural wavelengths)
---
wavelength - Computer Definition

The length of an electromagnetic waveform, wavelength ( ) is inversely proportional to frequency (f). As the frequency of the signal (number of cycles per second) increases, the wavelength (length of the electromagnetic waveform) of the signal decreases. In other words, the more waveforms transmitted per second, the shorter the length, or cycle, of each individual wave. Figure W-1 illustrates the relationship between frequency and wavelength -- as the frequency doubles, the wavelength halves. f2 = 2 f1 Signals in electrical and radio networks are defined in terms of frequency and described in terms of cycles per second (cps) traditionally, and Hertz (Hz) in a contemporary context. Once the frequency of the electromagnetic signals exceeds the extremely high frequency (EHF) of level of 300 GHz and crosses into the infrared light (IR) range of the optical spectrum, however, Hz no longer has relevance as either a bandwidth measurement or a signal descriptor. The numbers are just too large and difficult to express. Rather, wavelength is used in the optical domain to describe the nature of the signal. By way of illustration, consider that the upper range of an analog voice channel is 4 kHz.The velocity of propagation of all electromagnetic energy in a vacuum is roughly that of the speed of light, or 300,000 kilometers per second. The velocity of electromagnetic energy through a copper wire is approximately 60
---
The distance between crests of a wave. The wavelength determines the nature of the various forms of radiant energy that comprise the electromagnetic spectrum. For electromagnetic waves, the wavelength in meters is computed by the speed of light divided by frequency (300,000,000/Hz). For sound waves, the wavelength is determined by 335/Hz. See optical bands.
---