adjective
The definition of water resistant is something that will not be penetrated by liquid or destroyed by exposure to liquid but that will instead repel the liquid.

An example of a water resistant watch is one you can wear in the water while swimming without ruining it.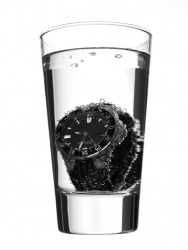 Hopefully, this watch is water-resistant.
---
water-resistant
adjective
that repels water for a short time but is not thoroughly waterproof
---
water-resistant
---
water-resistant
Adjective
(comparative more water-resistant, superlative most water-resistant)
that slows the penetration of water (but is not waterproof)
---