wasp

WASP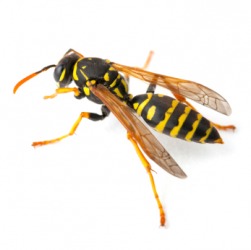 One type of wasp.
noun
The definition of a wasp is a winged insect with a slender body, a mouth that can bite and a stinger on females (workers and queens), or is a slang, shortened form of the phrase white, Anglo-Saxon Protestant.

An example of a wasp is an insect that may sting you when you are outside.
An example of a Wasp is a man of British and Protestant heritage.
---
wasp
any of various families of winged hymenopteran insects, characterized by a slender body with the abdomen attached by a narrow stalk, biting mouthparts, and, in the females and workers, a vicious sting that can be used repeatedly: some wasps, as the hornet, are characterized by a colonial or social organization
Origin of wasp
Middle English
waspe
from Old English
wæsp
, akin to German
wespe
from Germanic base an unverified form
waps-
from Indo-European an unverified form
wobhs?
from base an unverified form
webh-
, to weave (in reference to the cocoonlike nest)

WASP
or Wasp
a person who belongs to or is thought of as being part of a white, upper middle-class, N European, Protestant group regarded as traditionally dominating economic, political, and cultural activity in the U.S.: a term often used with mild derision
Origin of WASP
W(hite) A(nglo-)S(axon) P(rotestant)
---
wasp
noun
Any of numerous social or solitary hymenopterans of the suborder Apocrita, especially of the family Vespidae, that characteristically have a slender hairless body with a constricted abdomen, two pairs of membranous wings, a mouth adapted for biting or sucking, and in the females an ovipositor sometimes modified as a sting.
Origin of wasp
Middle English
waspe
from
Old English
wæps, wæsp
Related Forms:
wasp
European paper wasp
Polistes dominula
WASP
or Wasp
noun
A white person of Protestant English or other Northern European ancestry, especially one belonging to the American upper class.
Origin of WASP
W(hite) A(nglo-)S(axon) P(rotestant)
Related Forms:
WASP
or Wasp
noun
A member of Women's Airforce Service Pilots, organized during World War II as part of the US Army Air Forces to ferry aircraft and to test new aircraft. The organization was disbanded in 1944.
Origin of WASP
From
W(omen's) A(irforce) S(ervice) P(ilots)
---
wasp

---
wasp - Computer Definition
(Wireless ASP) An application provider that hosts wireless applications over the Web. There are WASPs that offer ready-made applications for particular industries, while others, such as Air2Web, provide a platform that serves as a gateway between the wireless application and the air interfaces. The latter can be hosted by the provider or the customer. See Air2Web.
---