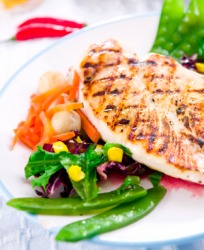 A nice plate of vittles.
noun
Vittle is an obsolete alternative to the word victual, which is defined as food prepared to be eaten.

A piece of chicken that has been grilled and is ready to eat is an example of a vittle.
---
vittle
noun
transitive verb
intransitive verb
-·tled

,

-·tling
alt. sp. of victual
---
vittle
---
vittle

Noun
(plural vittles)
(archaic) Food.
Usage notes
The plural form, vittles, is now more commonly used for both singular and plural instances.
Verb
(third-person singular simple present vittles, present participle vittling, simple past and past participle vittled)
To provide or obtain edible provisions.
Origin
Originally an alternate spelling of victual.
---