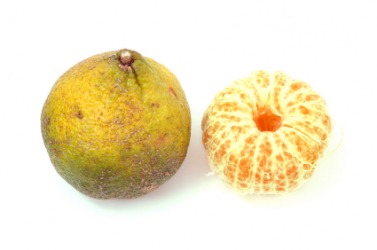 Peeled an unpeeled ugli fruit.
Licensed from iStockPhoto
---
a Jamaican citrus fruit that is a three-way cross between a grapefruit, orange, and tangerine
Origin: from Ugli, a trademark, altered from ugly: from its misshapen appearance
Webster's New World College Dictionary
Copyright © 2010 by Wiley Publishing, Inc., Cleveland, Ohio.
Used by arrangement with John Wiley & Sons, Inc.
ugli fruit
Variant of Ugli fruit
a Jamaican citrus fruit that is a three-way cross between a grapefruit, orange, and tangerine
Origin: from Ugli, a trademark, altered from ugly: from its misshapen appearance