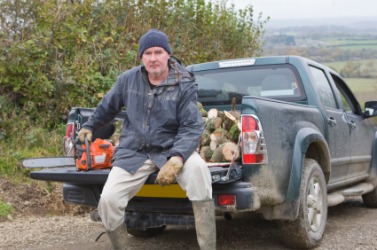 A man sitting on the tailgate of his truck.
Licensed from iStockPhoto
---
☆
noun
a board or gate at the back of a wagon, truck, station wagon, etc., designed to be removed or swung open on hinges for loading or unloading
intransitive verb
to drive too closely behind another vehicle

Origin: so called because the meal was origin, originally served on the tailgate

to picnic at or near one's automobile or in a parking lot, as before a sporting event
Webster's New World College Dictionary
Copyright © 2010 by Wiley Publishing, Inc., Cleveland, Ohio.
Used by arrangement with John Wiley & Sons, Inc.
---
noun
A hinged board or closure at the rear of a vehicle, such as a pick-up truck, that can be lowered during loading and unloading. Also called tailboard.
One of the pair of gates downstream in a canal lock.
verb
tail·gat·ed
,
tail·gat·ing
,
tail·gates
verb
, transitive
To drive so closely behind (another vehicle) that one cannot stop or swerve with ease in an emergency.
Slang To follow closely behind (another person), as in gaining access to an area requiring the use of an electronic identification card.
verb
, intransitive
To follow another vehicle too closely.
To participate in a picnic that is served from the tailgate of a vehicle, as before a sports event.
Related Forms:
The American Heritage® Dictionary of the English Language
, 4th edition Copyright © 2010 by Houghton Mifflin Harcourt Publishing Company. Published by Houghton Mifflin Harcourt Publishing Company. All rights reserved.
---
tailgate - Computer Definition
A conversion layer that lets IDE devices connect to the IEEE 1394 Firewire interface.
Computer Desktop Encyclopedia
THIS DEFINITION IS FOR PERSONAL USE ONLY
All other reproduction is strictly prohibited without permission from the publisher.
© 1981-2014 The Computer Language Company Inc. All rights reserved.