silica

sil·i·ca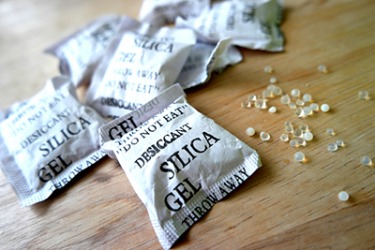 A desiccant packet contains silica gel which prevents moisture from damaging the packaged product.
noun
Silica is silicon dioxide which is a hard mineral that looks like glass.

An example of silica is a material found in quartz.
---
silica
a glassy, very hard mineral, silicon dioxide, SiO, found in a variety of forms, including quartz, opal, chalcedony, sand, or chert
Origin of silica
Modern Latin from Classical Latin
silex
, flint: see silex
---
silica
noun
A white or colorless crystalline compound, SiO2, which in the form of quartz and certain other minerals is a chief component of the earth's crust. Silica sand is used in making a wide variety of materials, such as glass and concrete.
Origin of silica
New Latin
from
Latin
silex
silic-
hard stone, flint
---
silica

Noun
(countable and uncountable, plural silicas)
Silicon dioxide.
Any of the silica group of the silicate minerals.
Origin
Origin: 1585-95; in Latin silex ("hard stone, flint"). Subsequently, silicon was first identified by the chemist Antoine Lavoisier in 1787 as a component element of the silex, or silicis for flint, and more generally what were termed "flints" during the era, nowadays as we would say "silica" or more formally, silicate.
---
silica - Computer Definition

---
---