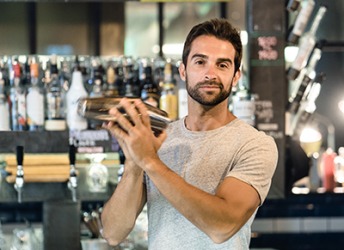 The bartender shook the martini in the cocktail shaker.
noun
Shook are the parts needed for making a barrel or a packing box.

An example of shook are the wood strips, metal hoops and seals that make up a barrel.
verb
Shook is defined as someone or something has been moved in short, quick motions.

An example of shook is a cocktail that has been mixed in a shaker.
---
shook
a set of the pieces used in assembling a single box, cask, etc.
a shock of grain sheaves
Origin of shook
probably variant, variety of shock
shook up
Informal
upset; disturbed; agitated
---
shook
noun
A set of parts for assembling a barrel or packing box.
Origin of shook
Probably from
shook cask
variant of
shaken cask
cask broken down for shipment
from
shaken
dismantled and packed for transport
past participle of
shake
to scatter, shed
---
shook

Noun
(plural shooks)
A set of pieces for making a cask or box, usually wood.
The parts of a piece of house furniture, as a bedstead, packed together.
Verb
(third-person singular simple present shooks, present participle shooking, simple past and past participle shooked)
To pack (staves, etc.) in a shook.
Simple past tense of shake.
Origin
Compare shock ("a bundle of sheaves").
---