shearing stress
shearing stress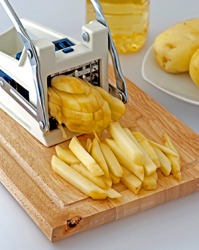 When the potato is pushed through the metal grid, the shearing stress cuts it into sticks to make french fries.
noun
Shearing stress is a force that causes layers or parts to slide upon each other in opposite directions.

An example of shearing stress is the force of two connecting rocks rubbing in opposite directions.
---
shearing stress
a force causing two contacting parts or layers to slide upon each other, in opposite directions parallel to the plane of their contact
---