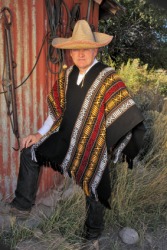 A man wearing a serape.
noun
The definition of a serape is a wool blanket worn by men in Mexico as a type of coat.

The blanketlike coat worn by a man in Mexico City is an example of a serape.
---
serape
⌂
a brightly colored wool blanket, used as an outer garment by men in Spanish-American countries
Origin of serape
Mexican Spanish
---
serape
also sa·ra·pe
noun
A long blanketlike shawl, often brightly colored and fringed at the ends, worn especially by Mexican men.
Origin of serape
American Spanish
sarape
.
---
serape
Origin
From Mexican Spanish serape.
---