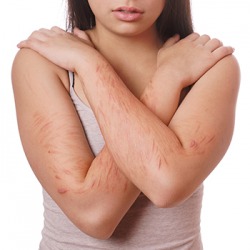 Cutting is a form of self-abuse and is an indicator of emotional distress that needs to be treated by a licensed therapist.
noun
Self-abuse is negative and often dangerous behavior done to yourself.

Cutting yourself with scissors on purpose is an example of self-abuse.
Constantly telling yourself that you are ugly and unworthy is an example of self-abuse.
---
self-abuse
misuse of one's own abilities, talents, etc.
accusation, blame, or revilement of oneself

Old-fashioned

masturbation
---
self-abuse
noun
Abuse of oneself or one's abilities.
Masturbation.
---
self-abuse

Verb
(third-person singular simple present self-abuses, present participle self-abusing, simple past and past participle self-abused)
(historical, euphemistic) To masturbate.
---