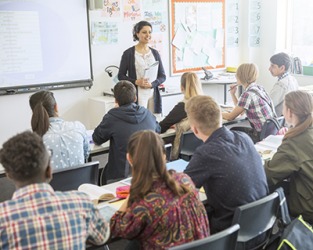 Secularism is the custom practice at public schools in the United States because of its diverse population and wide range of religious preferences.
noun
Secularism is a belief system that rejects religion, or the belief that religion should not be part of the affairs of the state or part of public education.

The principles of separation of church and state and of keeping religion out of the public school system are an example ofsecularism.
---
secularism
a system of doctrines and practices that disregards or rejects any form of religious faith and worship
the belief that religion and ecclesiastical affairs should not enter into the functions of the state, specif., into public education
Origin of secularism
secular + -ism
---
secularism
noun
Religious skepticism or indifference.
The view that religious considerations should be excluded from civil affairs or public education.
Related Forms:
sec′u·lar·is′tic

adjective
---
secularism

Noun
(countable and uncountable, plural secularisms)
A position that religious belief should not influence public and governmental decisions
The related political belief in the separation of church and state
Origin
From Latin saeculum era, age.
---