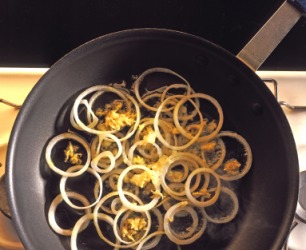 Onions being sauted in a pan.
adjective
The definition of saute is something that has been fried in a pan with a small amount of oil.

An example of saute used as an adjective is a saute style used when vegetables were lightly fried in oil.
noun
Sauté is a food that has been fried in a little butter or other small amount of fat.

An example of a sauté is a dish of mushrooms cooked in butter.
verb
Sauté is defined as to cook something in a pan with a little fat.

An example of sauté is to fry chopped onions in a pan with butter or oil.
---
saut-e

Verb
(third-person singular simple present sautés, present participle sautéing, simple past and past participle sautéed)
To cook (food) using a small amount of fat in an open pan over a relatively high heat, allowing the food to brown and form a crust stopping it from sticking to the pan as it cooks.
---