Saturn

Sat·urn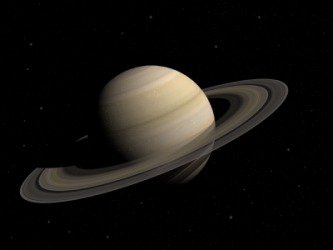 The planet Saturn.
noun
Saturn is defined as a planet in our solar system which is know for its rings.

Facts About Saturn

Saturn was named after a Roman god, Saturnus, who was the god of agriculture.
In 1610 Galileo was the first person to see Saturn through a telescope. Its shape puzzled him, because it didn't look spherical, but looked more like an oval. In 1655, Christiaan Huygens had a better telescope and could see the rings more clearly. Two decades later, Giovanni Cassini made the discovery that the rings were not solid, but made up of particles. He also saw that there was more than one ring, and there was a large gap, 2980 miles wide, between two of them. The gap was called the Cassini Division, named in his honor.
Saturn is the sixth planet from the Sun, approximately 888 million miles away from the Sun.
Saturn has a diameter of about 75,000 miles as compared to the 8,000 mile diameter of the Earth.
One orbital period lasts for over 29 years. That means, in Earth time, that one year here is equivalent to over 29 on Saturn.
The exact length of a year is 29.42 Earth years.
One day on Saturn lasts for 10 hours and 39.4 minutes.
Its atmosphere is 97% hydrogen, 2.5% helium, and .5% methane; but, it is believed to have a solid inner core of iron and rocky material.
Saturn is the windiest planet, with winds blowing at 1,100 miles per hour.
Saturn has a very strong magnetic field.
Saturn has 62 moons, with the largest of Saturn's moons as big or bigger than the Earth's moon. Many of Saturn's smaller moons are no larger than comets. Half of the moons orbit Saturn in the same direction as the planet itself.
Its most distinctive feature is its seven rings of varying lengths, widths and densities. The rings consist of rocks, ice and space debris.
The first probe to fly by Saturn was the unmanned spacecraft Pioneer 11 in 1979. It was exploring the outer planets and discovered two new moons and charted the magnetosphere.
Voyager 1 and Voyager 2 flew by Saturn as part of their mission. They both measured the length of a day on Saturn as 10 hours, 39 minutes, and 24 seconds. The Voyager spacecrafts identified 6 more moons on their mission, bringing the total to 17.
The Cassini-Huyggens spacecraft was launched in 1997 as a joint effort between the National Aeronautics and Space Administration (NASA), European Space Agency (ESA), and Italian Space Agency (ASI) to study Saturn and two of its moons. It reached Saturn in 2004 and captured photographs. The probe went on to study Titan, one of Saturn's moons. In 2008, NASA extended the mission and renamed it the Cassini Equinox Mission. In 2010 the mission was called the Cassini Solstice Mission and will continue through 2017.

An example of Saturn is the sixth planet from the Sun.
---
Saturn
Rom. Myth.

the god of agriculture: identified with the Greek Cronus
the second largest planet of the solar system and the sixth in distance from the sun: it has a thin, icy ring system around its equator: diameter, c. 120,540 km (c. 74,900 mi); period of revolution, 29.46 earth years; period of rotation, 10.66 hours; 62 satellites; symbol, ?

Origin of Saturn

ML use of L Saturnus

Alchemy

lead (sense )
Origin of Saturn
Middle English
Saturne
from Old English from Classical Latin
Saturnus
from Etruscan
---
Saturn
noun
Roman Mythology The god of agriculture.
The sixth planet from the sun and the second largest in the solar system, having a sidereal period of revolution about the sun of 29.5 years at a mean distance of about 1.43 billion kilometers (891 million miles), a mean diameter of approximately 121,000 kilometers (75,000 miles), and a mass 96 times that of Earth.
Origin of Saturn
Middle English
Saturnus
from
Old English
from
Latin
Sāturnus
of Etruscan origin
Saturn
photographed by the Hubble Space Telescope in 1998
---