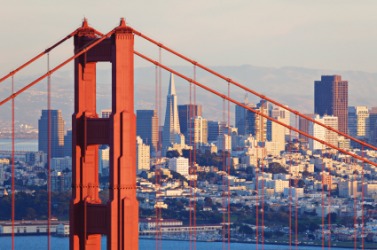 The Golden Gate Bridge frames beautiful San Francisco.
---
San Francisco
seaport on the coast of central Calif., separated from Oakland by an inlet () of the Pacific: pop. 777,000
Origin of San Francisco
Spanish name of old mission there, after Saint Francis of Assisi
---
San Francisco
A city of northern California on a peninsula between the Pacific Ocean and San Francisco Bay. It was founded as Yerba Buena in 1835 near the site of a Spanish presidio and mission built in 1776. The city grew into a major port during the gold rush of 1848, and survived a devastating earthquake and fire in 1906. Today it is the center of a large metropolitan area around San Francisco Bay.
Related Forms:
---
San Francisco
Proper noun
A major coastal city in California of over 800,000 widely known for its unique culture, architecture, and LGBT population
The extinct culture of the city of the same name also known as the Ramaytush
Any place or institution named after St. Francis
---