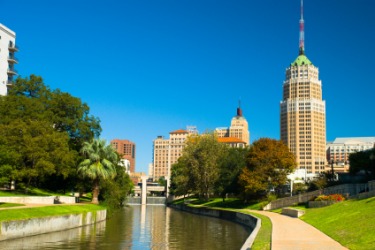 Downtown San Antonio along the riverwalk.
---
San Antonio
city in SC Tex.: site of the Alamo: pop. 1,145,000
Origin of San Antonio
Spanish Saint Anthony (of Padua)
---
San Antonio
A city of south-central Texas southwest of Austin on the San Antonio River, flowing about 320 km (200 mi) southeast to San Antonio Bay on the Gulf of Mexico. The city was founded as a Franciscan mission in 1718 and is the site of the Alamo, which was besieged and captured by Mexican forces in February–March 1836. It has several military bases.
---
San Antonio
---