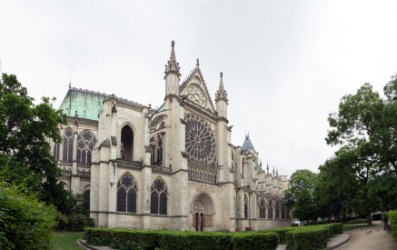 The cathedral in Saint Denis.
---
Saint-Denis
A city of north-central France, an industrial suburb of Paris. Dating from early Christian times as a place of pilgrimage, it is the site of a Benedictine abbey founded c. 626. The city's 12th-century Gothic cathedral contains the tombs of numerous French monarchs, including those of Louis XVI and Marie Antoinette.
The capital of Réunion, a port on the Indian Ocean. It was founded in the late 17th century as a way station on the route to the Orient.
---
Saint-Denis
Proper noun
The administrative capital of Réunion, the overseas territory of France
---