sacrilegious

sac·ri·le·gious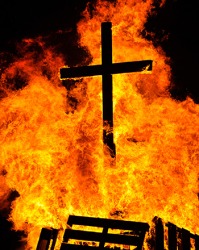 Burning a cross is considered a sacrilegious act in the Christian faith.
adjective
The definition of sacrilegious is an act that destroys, hurts or ruins something sacred.

An example of a sacrilegious act is the burning of a cross.
---
sacrilegious
that is or involves sacrilege
guilty of sacrilege
---
sacrilegious
adjective
Committing sacrilege or characterized by sacrilege.
Related Forms:
sac′ri·le′gious·ly

adverb
sac′ri·le′gious·ness

noun
Usage Note: Sacrilegious, the adjective form of sacrilege, is often misspelled through confusion with religious.
---
sacrilegious

Adjective
(comparative more sacrilegious, superlative most sacrilegious)
Origin
From Latin sacer + legō ("steal something sacred").
---