Saba
[sä′bə; for 2 sā′bə, sab′ə]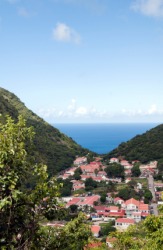 A village on Saba.
---
Saba
island of the Leeward group, in the Netherlands Antilles: 5 sq mi (13 sq km); pop. 1,100

ancient kingdom in S Arabia in the region of modern Yemen
---
Saba
An island territory of the Netherlands in the West Indies between St. Martin and St. Eustatius. Settled by the Dutch c. 1640, the island is the cone of an extinct volcano.
---
Saba
Proper noun
An island in the southern part of the Caribbean Sea off the west coast of Venezuela, a special municipality of the Netherlands.
---