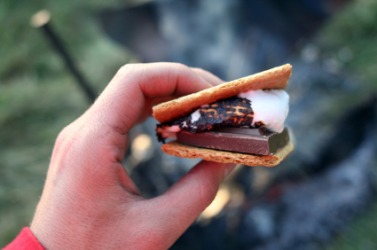 S'more made over a campfire.
---
s'more
☆
noun
a dessert, made as at a campfire, consisting of a toasted marshmallow and a piece of chocolate between two graham crackers
Origin of s'more
probably contr. of
some more
---
s'more
noun
often
s'mores
A dessert or snack made of marshmallows, usually toasted over a campfire, and thin slabs of chocolate, which are then sandwiched together between graham crackers.
Origin of s'more
Contraction of
some more
.
---
s'more
Origin
A contraction of some more, so called because they're meant to be so tasty you always want some more.
---