rom

Rom.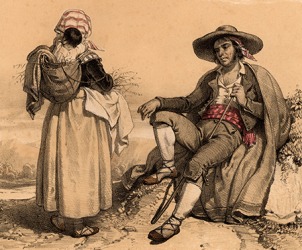 An illustration from the 1800's of a rom and his family who are part of an ethnic group call the Roma or Romani and are know to be nomadic gypsies.
noun
The definition of an rom is a male Gypsy.

An example of rom is a young man who travels with a group of people from town to town.

ROM stands for Read Only Memory, a type of computer memory.

An example of ROM is computerized data that can only be read, but not changed.
---
rom
Rom
noun
pl. or

Ro′ma
a Gypsy man or boy
any member of the Gypsy people
Origin of Rom
see Romany
Rom
Roman
Romance (language)
Romania
Romanian

Bible

Romans
ROM
computer memory whose contents can be read but not altered
a memory chip that can be read but not altered
Origin of ROM
r(ead-)o(nly) m(emory)
---
Rom
noun
pl.
Rom,
or
Ro·ma
A Romani, especially a Romani man or boy.
Origin of Rom
Romani
man
; see
Romani
.
ROM
noun
Computers
Memory hardware that allows fast access to permanently stored data but prevents addition to or modification of the data.
Origin of ROM
r(ead-)o(nly) m(emory)
rom.
abbreviation
Printing roman
Rom.
abbreviation
Romance (languages)
Bible Romans
---
rom

---
rom - Computer Definition

Semiconductor-based computer memory that stores program code that the central processing unit (CPU) can read, but not write to, i.e., change or modify in any way. Programs are stored in ROM on semiconductor chips, also known as firmware or hardware, during the manufacturing process. Such programs are said to be hard-coded to distinguish them from software. The term readonly memory distinguishes it from random access memory (RAM), which also is stored on semiconductors, but is read/write memory. Unlike RAM, ROM is not volatile, i.e., the programs are not lost when the electric power is lost or turned off. Therefore, programs required during system start-up commonly are stored in ROM. Note: Many ROM chips can be reprogrammed after erasing the previous content either electrically or with an external source of ultraviolet (UV) light. See also CPU, firmware, hardware, RAM, semiconductor, and software.
---
(1) In an Android phone, a file for firmware updating. See Android ROM.
(2) (Read Only Memory) A memory chip that permanently stores instructions and data. Also known as "mask ROM," its content is created in the last masking stage of the chip manufacturing process, and it cannot be changed. Stand-alone ROM chips and ROM banks in microcontroller chips are used to hold control routines for myriad applications. ROMs were also widely used to hold the BIOS in early PCs as well as plug-in cartridges for video games. Although EPROMs, EEPROMs, and particularly flash memory, are the kinds of non-volatile storage one hears about more often, ROM is a mature, inexpensive technology that is easy to integrate into the design of any CMOS chip. ROMs Are Secure Unlike flash memory, which can be updated, the data in ROM chips cannot be tampered with. If encryption keys and other security codes are stored in a ROM, they cannot be altered unless the chip is physically replaced (see secure boot). See memory types, RAM, EEPROM and flash memory.
---