roguish

rogu·ish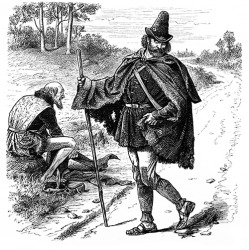 The story of Robin Hood was about a roguish hero who robbed from the rich and gave to the poor.
adjective
The definition of roguish is dishonest or playfully mischievous.

A con artist who steals money from unsuspecting victims is an example of someone who is roguish.
A person who is playfully misbehaving is an example of someone who would be described as roguish.
---
roguish
of, like, or characteristic of a rogue; specif.,
dishonest; unscrupulous
playfully mischievous
---
roguish
adjective
Deceitful; unprincipled: Set adrift by his roguish crew, the captain of the ship spent a week alone at sea.
Playfully mischievous: a roguish grin.
Related Forms:
---
roguish

---