noun
Richard is a male name of French origin.

An example of Richard is President Nixon's first name.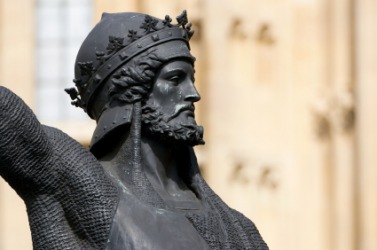 A statue of King Richard I of England.
---
Richard
noun
a masculine name: dim. Dick, Rich, Rick; equiv. It. Riccardo, Sp. Ricardo
Origin of Richard
Middle English
Rycharde
; from Old French
Richard
; from Old High German
Richart
; from Germanic an unverified form
rik-,
king (akin to Classical Latin
rex:
see
right
) + an unverified form
harthuz,
strong: for Indo-European base see hard
1157-99; king of England (1189-99): son of Henry II

1367-1400; king of England (1377-99): last Plantagenet king; deposed: son of Edward, the Black Prince

1452-85; king of England (1483-85): last king of the house of York
---
Richard
Proper noun
(plural Richards)
A male given name.
(rare compared to given name) A patronymic surname​.
Dickason
Dickel
Dicken
Dickenson
Dickerson
Dickeson
Dickie
Dickin
Dickings
Dickins
Dickison
Dicks
Dickson
Diggens
Digges
Diggin
Diggins
Diggle
Diggles
Dixey
Dixon
Dixson
Hedgecock
Hedgecox
Hichens
Hicken
Hickes
Hickin
Hicking
Hicklin
Hickling
Hickson
Higgens
Higgin
Higgins
Higgitt
Higgon
Higgs
Higson
Hiscock
Hiscocks
Hiscoke
Hiscott
Hiscox
Hiskett
Hitchcott
Hitchcox
Hitchen
Hitchens
Hitches
Hitchin
Hitching
Hitchings
Hitchins
Hitchinson
Hitchon
Hixon
Icke
McRitchie
Prichard
Pritchard
Reacher
Richards
Richie
Rickard
Rickards
Rickers
Rickett
Ricketts
Ricks
Rickson
Ritch
Ritchie
Ritson
Rix
Rixon
---