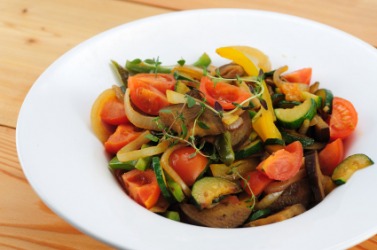 A bowl of ratatouille.
Licensed from iStockPhoto
---
noun
a vegetable stew of eggplant, zucchini, tomatoes, onions, and peppers, flavored with garlic and basil or other herbs and served hot or cold
Origin: Fr from ra-, intensifier plush ta-, reduplicated, reduplication syllable plush touiller, to mix from Classical Latin tudiculare, to stir about from tudicula, device for crushing olives, diminutive of tudes, hammer from root of tundere, to strike: see study
Webster's New World College Dictionary
Copyright © 2010 by Wiley Publishing, Inc., Cleveland, Ohio.
Used by arrangement with John Wiley & Sons, Inc.
---
noun
A vegetable stew, usually made with eggplant, tomatoes, zucchini, peppers, and onions, seasoned with herbs and garlic.
Origin: French, from alteration of toillier, touiller, to stir, mix; see toil1.
The American Heritage® Dictionary of the English Language
, 4th edition Copyright © 2010 by Houghton Mifflin Harcourt Publishing Company. Published by Houghton Mifflin Harcourt Publishing Company. All rights reserved.