pupa

pu·pa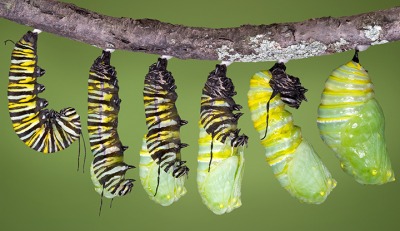 This image shows the process in which a caterpillar forms into a pupa.
noun
The definition of a pupa is the cocoon stage an insect goes through after the larval form and before the final form of the adult.

An example of a pupa is a caterpillar being enclosed in a cocoon.
---
pupa
noun
pl.

-·pae

or

-·pas
an insect in the nonfeeding stage of development between the last larval and adult forms, characterized by many anatomical changes and, often, by enclosure in a cell or cocoon
Origin of pupa
ModL: so named by Linnaeus from L, girl, doll, probably from Indo-European an unverified form
pup-
from base an unverified form
pu-
, to swell up, inflate
---
pupa
noun
pl.
pu·pae,
or
pu·pas
An insect in the nonfeeding stage between the larva and adult, during which it typically undergoes complete transformation within a protective cocoon or hardened case. Only insects that undergo complete metamorphosis have pupal stages.
Origin of pupa
Latin
pūpa
girl, doll
Related Forms:
pupa
ladybug pupa
---
pupa

---