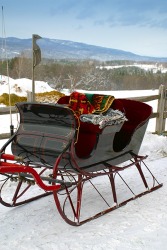 The use of the pung was eagerly awaited every time the first snow appeared.
noun
The definition of a pung is a low, box sleigh that is drawn by a horse.

An example of a pung is the sleigh in "Jingle Bells."
---
pung
Northeast, Cdn.
a boxlike sleigh drawn by one horse
Origin of pung
from earlier
tom pung
, altered from an unattested New England Algonquian (e.g. Massachusett) name akin to toboggan
---
pung
noun
New England
A low, one-horse box sleigh.
Origin of pung
Short for
dialectal
tom-pung
from an Algonquian language of southern New England
---
pung

Noun
(plural pungs)
(US, Canada) A low box-like sleigh designed to be pulled by one horse.
---