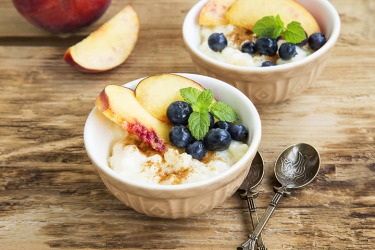 Pud with fresh fruit
abbreviation
PUD is defined as an abbreviation for planned unit development, a housing development not subject to usual zoning laws, often allowing different styles of homes, homes closer together and mixed in with schools, churches, hospitals, retail and recreational facilities, all allowing for a unified look.

An example of a PUD is a planned community where all the elements of the neighborhood are pre-planned including street lights and home finishes.
noun
Pud is a casual name for pudding, the British term for dessert.

An example of a pud is a rice pudding.
---
pud
PUD
---
pud

Noun
(plural puds)
(colloquial) Pudding (either sweet or savoury). [from 18th c.]
(slang) Penis. [from 20th c.]
Noun
(plural puds)
Alternative form of pood.
Part or all of this entry has been imported from the 1913 edition of Webster's Dictionary, which is now free of copyright and hence in the public domain. The imported definitions may be significantly out of date, and any more recent senses may be completely missing.
---