prescient

pre·scient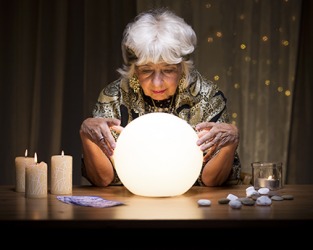 The prescient fortune teller's celebrity clientele made her famous.
adjective
The definition of prescient is knowing what is going to happen before it happens.

A fortune teller who can tell the future is an example of someone who is prescient.
---
prescient
adjective
Of or relating to prescience.
Possessing prescience.
Origin of prescient
French
from
Old French
from
Latin
praesciēns
praescient-
present participle of
praescīre
to know beforehand
prae-
pre-
scīre
to know
; see
skei-
in Indo-European roots.
Related Forms:
---
prescient

Adjective
(comparative more prescient, superlative most prescient)
Having knowledge of events before they take place; possessing or exhibiting prescience.
Origin
From Latin praescire ("know beforehand"), from prae + scire.
---