plumber

plumb·er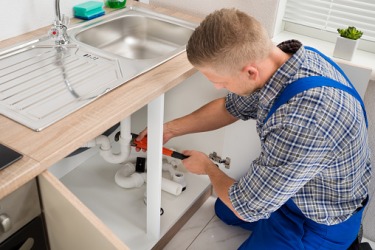 A plumber working on a kitchen sink.
noun
The definition of a plumber is a professional who installs, repairs or works with pipes and water supplies.

The person who comes and installs your toilet is an example of a plumber.
---
plumber
a skilled worker who installs and repairs pipes, fixtures, etc., as of water, drainage, or gas systems in a building
Origin of plumber
Middle English from Middle French
plummier
from Classical Latin
plumbarius
, lead worker from
plumbum
, lead: see plumb
---
plumber
noun
One that installs and repairs pipes and plumbing.
Slang An employee assigned to investigate and stop leaks of sensitive information.
Origin of plumber
Middle English
plummer
from
Old French
plomier
from
Latin
plumbārius
lead worker
from
Latin
plumbum
lead
---
plumber

Noun
(plural plumbers)
One who works in or with lead.
One who furnishes, fits, and repairs pipes and other apparatus for the conveyance of water, gas, or drainage.

One who installs piping for potable and waste water.

(UK) In the Royal Navy, nickname for an apprentice, a boy aged 16 to 18, who is trained in technical skills at the Dockyard Schools to become an artificer.
---