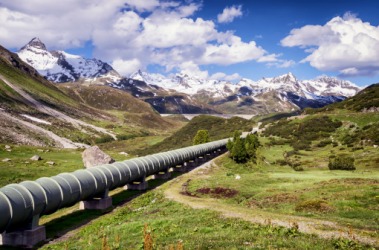 Pipeline
noun
The definition of a pipeline is a line of pipes, or a channel or method to carry something from one place to another.

An example of a pipeline is a line of pipes that carries natural gas from an oil drilling site to a nearby city.
---
pipeline
a line of pipes for conveying water, gas, oil, etc.
any channel or means whereby something is passed on: a pipeline of information
transitive verb
-·lined·

,

-·lin·ing
to convey by, or supply with, a pipeline
---
pipeline
noun
A long pipe, especially one used for the conveyance of water, gas, or petroleum products.
A channel by which information is privately transmitted.
A system through which something is conducted, especially as a means of supply: "Farther down the pipeline are three other approaches to vaccine development" ( Boston Globe )
transitive verb
pipe·lined, pipe·lin·ing, pipe·lines
To convey by or as if by a system of pipes.
To lay a system of pipes through.
pipeline
Trans-Alaska Pipeline System, Alaska
---
pipe-line

Noun
(plural pipelines)
a conduit made of pipes used to convey water, gas or petroleum etc

An oil pipeline has been opened from the Caspian Sea.

a channel (either physical or logical) by which information is transmitted sequentially (that is, the first information in is the first information out).

3D images are rendered using the graphics pipeline.

a system through which something is conducted

A new version of the software is in the pipeline, but has not been rolled-out.

(surfing): The inside of a wave that a surfer is riding, when wave has started closing over.
Verb
(third-person singular simple present pipelines, present participle pipelining, simple past and past participle pipelined)
To convey something by a system of pipes
To lay a system of pipes through something
(computing) To design (a microchip etc.) so that processing takes place in efficient stages, the output of each stage being fed as input to the next.
---
pipeline - Computer Definition
---
pipeline - Investment & Finance Definition
A ubiquitous term that often is used to refer to the amount of business that a company expects to receive in the coming months or year. Typically it is used when companies have a long time between the placement of orders and when the goods or services actually are delivered. Companies talk about the pipeline being full to indicate that they have a solid backlog of orders.
In the energy market, the way crude oil, gasoline, or natural gas is delivered to refiners.
---