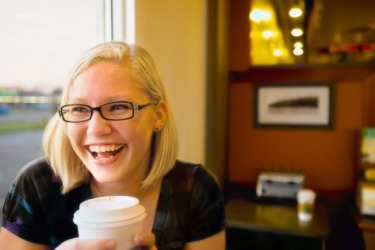 A young lady getting a pick me up from a cup of coffee.
noun
The definition of a pick me up is something that cheers a person up, makes him happy or gives him more energy.

An example of a pick me up is a cup of coffee when you are tired.
---
pick-me-up
an alcoholic drink taken to raise one's spirits
anything that stimulates, invigorates, refreshes, heartens, etc.
---
pick-me-up
noun
Informal
A drink, often an alcoholic beverage, taken as a stimulant or a cure for a hangover.
---
pick-me-up

---