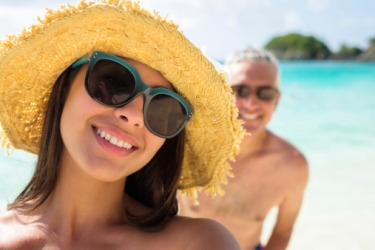 Tracy's father photobombs her selfie.
verb
The definition of photobomb is when someone jumps into a photo right before the picture is taken, causing the focus of the picture to change.

An example of a photobomb is a person jumping into a classic prom photo just before it is taken.
---
photobomb
transitive verb
pho·to·bombed, pho·to·bomb·ing, pho·to·bombs
To move unexpectedly and quickly into the frame of a photograph that is being taken of (someone or something): We were photobombed by my annoying cousin in half of our photos at the reception.
To appear unexpectedly in (a photograph), especially as a practical joke: My ridiculous roommate photobombed most of the pictures of me at the picnic.
noun
A photograph in which a person, animal, or object appears unexpectedly along with or in front of the intended subject.
Origin of photobomb
photo
bomb
---
photobomb

Verb
(third-person singular simple present photobombs, present participle photobombing, simple past and past participle photobombed)
To unexpectedly appear in a photograph, especially so as to ruin the picture.
Noun
(plural photobombs)
An act of photobombing.
A photo containing someone or something that is photobombing.
---