perspiration
per·spi·ra·tion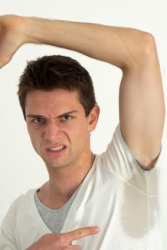 A man dismayed by the perspiration stains under his arm.
noun
Perspiration is sweat.

An example of perspiration is the wetness in your arm pits after running a mile.
---
perspiration
the act of perspiring; sweating
salty moisture given off in perspiring; sweat
Origin of perspiration
French
---
perspiration
noun
The fluid, consisting of water with small amounts of urea and salts, that is excreted through the pores of the skin by the sweat glands; sweat.
The act or process of perspiring.
Related Forms:
per·spir′a·to′ry

adjective
---
perspiration

Noun
(usually uncountable, plural perspirations)
the action or process of perspiring
---