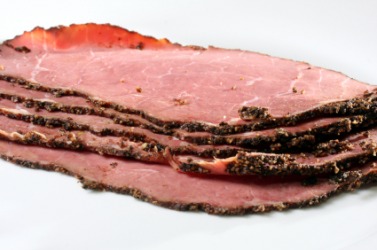 Slices of pastrami.
---
pastrami definition by Webster's New World
noun
highly spiced smoked beef, esp. from a shoulder cut
Origin: eastern; English Yiddish pastrame ; from Polish bastramy, dried meat, ultimately ; from Turkish basdyrma
Webster's New World College Dictionary Copyright © 2010 by Wiley Publishing, Inc., Cleveland, Ohio. Used by arrangement with John Wiley & Sons, Inc.
---
pastrami definition by American Heritage Dictionary
noun
pl.
pas·tra·mis
A highly seasoned smoked cut of beef, usually taken from the shoulder.
Origin: Yiddish pastrame, from Romanian pastramă, from păstra, to preserve, from Vulgar Latin *parsitāre, to spare, save, from parsus, past participle of Latin parcere, to be thrifty with.