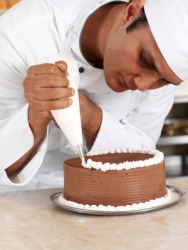 A chef uses a pastry bag to decorate a cake.
---
pastry bag
an open conical bag with a pierced tip at the narrow end, used for decorating cakes with icing, pressing out dough into various shapes for cookies, etc.
---
pastry bag
Noun
(plural pastry bags)
A flexible bag from which icing is forced through a small nozzle to make various designs of piping.
---