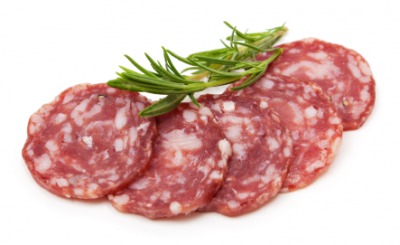 Thick slices of salami.
---
salami definition by Webster's New World
noun
a highly spiced, salted sausage, orig. Italian, of pork and beef, or of beef alone
Origin: Italian plural of salame, preserved meat, salt pork ; from Vulgar Latin an unverified form salamen, for Late Latin salsamen, salted food ; from Classical Latin salsus: see sauce
Webster's New World College Dictionary Copyright © 2010 by Wiley Publishing, Inc., Cleveland, Ohio. Used by arrangement with John Wiley & Sons, Inc.
---
salami definition by American Heritage Dictionary
noun
pl.
sa·la·mis
Any of various highly spiced and salted sausages, made from beef or a mixture of pork and beef.
Origin: Italian, pl. of salame, salami, from Vulgar Latin *salāmen, from *salāre, to salt, from Latin sāl, salt; see sal- in Indo-European roots.