noun
The definition of a partridge is a plump game bird.

An example of a partridge is the bird featured in "The 12 Days of Christmas."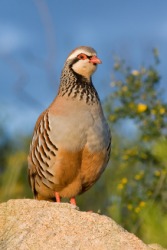 A red legged partridge.
---
partridge definition by Webster's New World
noun
pl. partridges or partridge
any of a number of medium-sized, short-tailed gallinaceous birds (family Phasianidae), esp., an Old World species (Perdix perdix) with an orange-brown head, a grayish neck, and a rust-colored tail, now established in N U.S.
any of various birds resembling the partridge, as the ruffed grouse
Origin: Middle English partriche ; from Old French perdriz, earlier perdiz ; from Classical Latin perdix ; from Classical Greek probably akin toperdesthai, to break wind (; from Indo-European base an unverified form perd- from source fart): from whirring sound made by wings on rising to fly
Partridge, Eric (Honeywood) 1894-1979; Brit. lexicographer, born in New Zealand
Webster's New World College Dictionary Copyright © 2010 by Wiley Publishing, Inc., Cleveland, Ohio. Used by arrangement with John Wiley & Sons, Inc.
---
partridge definition by American Heritage Dictionary
noun
pl.
partridge
partridge
or
par·tridg·es
Any of several plump-bodied Old World game birds, especially of the genera Perdix and Alectoris, related to the pheasants and grouse.
Any of several birds, such as the ruffed grouse or the bobwhite, similar or related to the partridge.
Origin: Middle English partrich, from Old French perdriz, alteration of perdis, from Latin perdīx, from Greek; see perd- in Indo-European roots.
partridge
Variant of partridge
noun
pl. partridges or partridge
any of a number of medium-sized, short-tailed gallinaceous birds (family Phasianidae), esp., an Old World species (Perdix perdix) with an orange-brown head, a grayish neck, and a rust-colored tail, now established in N U.S.
any of various birds resembling the partridge, as the ruffed grouse
Origin: Middle English partriche ; from Old French perdriz, earlier perdiz ; from Classical Latin perdix ; from Classical Greek probably akin toperdesthai, to break wind (; from Indo-European base an unverified form perd- from source fart): from whirring sound made by wings on rising to fly