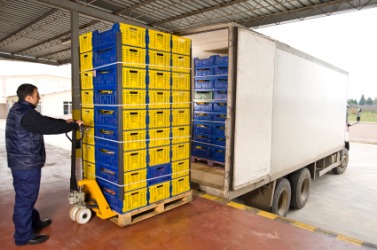 Plastic crates have been palletized for easier handling.
verb
Palletize is to put goods onto a pallet for storage or transport.

When you stack boxes of hardwood flooring onto a wood pallet so they can be easily moved from place to place, this is an example of when you palletize the wood.
---
palletize
transitive verb
-·ized·

,

-·iz·ing
to store or transport (materials) on pallets
---
palletize
transitive verb
pal·let·ized, pal·let·iz·ing, pal·let·iz·es
To stack and package (freight, for example) on pallets for efficient shipping and handling.
Related Forms:
---
palletize

Verb
(third-person singular simple present palletizes, present participle palletizing, simple past and past participle palletized)
To place on a pallet or pallets.
---