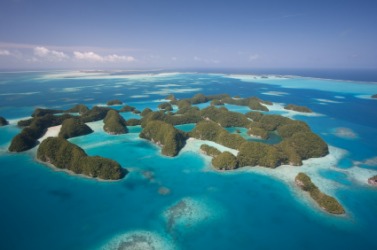 The islands of Palau or Belau.
---
Palau
country consisting of a group of islands in the W Pacific Ocean: formerly part of the Trust Territory of the Pacific Islands, the island group became an independent republic in 1994: 630 sq mi (1,632 sq km); pop. 15,000; cap. Koror
---
Palau
also Be·lau Formerly Pe·lew
A nation consisting of about 200 islands and islets in the Caroline Islands of the western Pacific Ocean. When most of the Carolines became the Federated States of Micronesia in 1978, Palau chose to form a separate republic in free association with the United States, an arrangement that became effective in 1994. The capital is Melekeok.
Palau
---
Palau
---