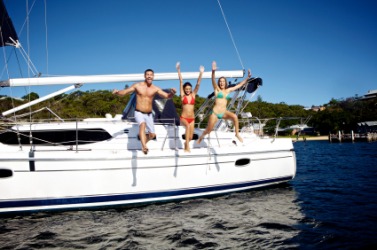 A group jumping overboard.
adverb
Overboard is defined as over the side of a ship and into the water, or being too excited and doing too much.

An example of overboard is a how someone's sunglasses fall when someone drops them off the side of the cruise ship; dropped overboard.
An example of overboard is extravagantly celebrating a coworker's birthday; going overboard with a celebration.
---
overboard
over a ship's side
from a ship into the water
Origin of overboard
Middle English
ouer borde
from Old English
ofor bord:
see over and board
go overboard
Informal
to go to extremes; esp., to be wildly enthusiastic
---
overboard
adverb
Over or as if over the side of a boat or ship.
---
overboard

Adverb
(comparative more overboard, superlative most overboard)
Over the edge; especially, off or outside of a boat.

It was their practice to throw the scraps overboard.

Excessively; too much.

They really went overboard with the party preparations.
---