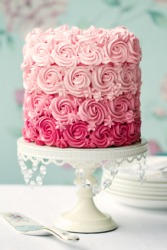 Ombre would describe this cake.
adjective
The definition of ombre is the French word for color that is shaded or graduated in tone.

An example of ombre is the color of a dress that is light gray at the top, medium gray in the middle and dark gray at the bottom.
noun
Ombre is a French word for a color with a shaded tone or varying tones.

An example of ombre is a color that fades from dark gray to light gray.
---
ombré
shaded or graduated in tone: said of a color
Origin of ombré
Fr, past participle of
ombrer,
to shade from Classical Latin
umbrare
from
umbra,
shade
---
ombre
also om·ber or hom·bre
noun
A trick-taking card game, played by three players with 40 cards, that was popular in Europe during the 1600s and 1700s.
Origin of ombre
Spanish
hombre
man, ombre
from
Latin
homō
homin-
man
; see
dhghem-
in Indo-European roots.
---
ombre

Noun
(uncountable)
A card game, borrowed from the Spaniards, and usually played by three persons; it involves forty cards, omitting the ranks of 8, 9 and 10.
Noun
(plural ombres)
Part or all of this entry has been imported from the 1913 edition of Webster's Dictionary, which is now free of copyright and hence in the public domain. The imported definitions may be significantly out of date, and any more recent senses may be completely missing.
---