noun
The definition of an octopus is a sea creature with a soft saclike body with eight sucker-lined limbs.

An example of an octopus is the character Pearl in the movie Finding Nemo.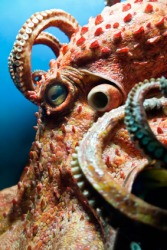 A giant octopus.
---
octopus definition by Webster's New World
noun
pl. octopuses, octopi , octopodes
any of various octopods (order Octopoda) having a soft, saclike body, a reduced coelom, an internal vestigial shell, and eight sucker-bearing arms around the mouth
anything suggesting an octopus; esp., an organization with branches that reach out in a powerful and influential manner
Origin: Modern Latin ; from Classical Greek oktōpous, eight-footed ; from oktō, eight plush pous (gen. podos), foot
Webster's New World College Dictionary Copyright © 2010 by Wiley Publishing, Inc., Cleveland, Ohio. Used by arrangement with John Wiley & Sons, Inc.
---
octopus definition by American Heritage Dictionary
noun
pl.
oc·to·pus·es
or
oc·to·pi
Any of numerous carnivorous marine mollusks of the genus Octopus or related genera, found worldwide. The octopus has a rounded soft body, eight arms with each bearing two rows of suckers, a large distinct head, and a strong beaklike mouth. Also called devilfish.
Something, such as a multinational corporation, that has many powerful, centrally controlled branches.
Origin: New Latin Octōpūs, genus name, from Greek oktōpous, eight-footed : oktō, eight; see oktō(u) in Indo-European roots + pous, foot; see ped- in Indo-European roots.