noun
Navigation is defined as the act or process of planning out a route or directing the travels of a boat, ship, car, person etc..

When a GPS device plans out your route and tells you where to go and when to turn, this is an example of GPS navigation.
YourDictionary definition and usage example. Copyright © 2013 by LoveToKnow Corp.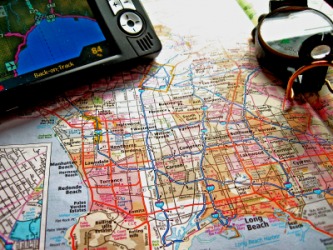 These items are aides to navigation.
Licensed from iStockPhoto
---
noun
the act or practice of navigating
the science of locating the position and plotting the course of ships and aircraft
traffic by ship
Origin: L navigatio
Webster's New World College Dictionary
Copyright © 2010 by Wiley Publishing, Inc., Cleveland, Ohio.
Used by arrangement with John Wiley & Sons, Inc.
---
noun
The theory and practice of navigating, especially the charting of a course for a ship or aircraft.
Travel or traffic by vessels, especially commercial shipping.
Related Forms:
navˌi·gaˈtion·al

adjective
navˌi·gaˈtion·al·ly

adverb
The American Heritage® Dictionary of the English Language
, 4th edition Copyright © 2010 by Houghton Mifflin Harcourt Publishing Company. Published by Houghton Mifflin Harcourt Publishing Company. All rights reserved.
---
navigation - Computer Definition
(1) Moving around. It refers to clicking or tapping buttons and menus or making multi-finger gestures to activate functions in an application or to jump to other sections of a Web site. See navigation bar and imagemap.
(2) Getting directions to a location. See GPS.
Computer Desktop Encyclopedia
THIS DEFINITION IS FOR PERSONAL USE ONLY
All other reproduction is strictly prohibited without permission from the publisher.
© 1981-2014 The Computer Language Company Inc. All rights reserved.