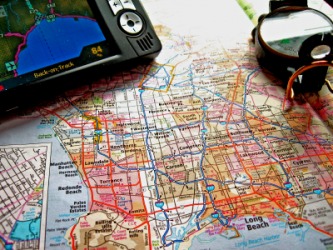 These items are aides to navigation.
noun
Navigation is defined as the act or process of planning out a route or directing the travels of a boat, ship, car, person etc..

When a GPS device plans out your route and tells you where to go and when to turn, this is an example of GPS navigation.
---
navigation
the act or practice of navigating
the science of locating the position and plotting the course of ships and aircraft
traffic by ship
Origin of navigation
Classical Latin
navigatio
---
navigation
noun
The theory and practice of navigating, especially the charting of a course for a ship or aircraft.
Travel or traffic by vessels, especially commercial shipping.
Related Forms:
nav′i·ga′tion·al

adjective
nav′i·ga′tion·al·ly

adverb
---
navigation

Origin
From Latin nāvigātiōnem, accusative singular of nāvigātiō ("sailing, navigation"), from nāvigātus, perfect passive participle of nāvigō ("sail").
---
navigation - Computer Definition
(1) Moving around. It refers to clicking or tapping buttons and menus or making multi-finger gestures to activate functions in an application or to jump to other sections of a website. See navigation bar and imagemap.
(2) Getting directions to a location. See GPS and mapping app.
---